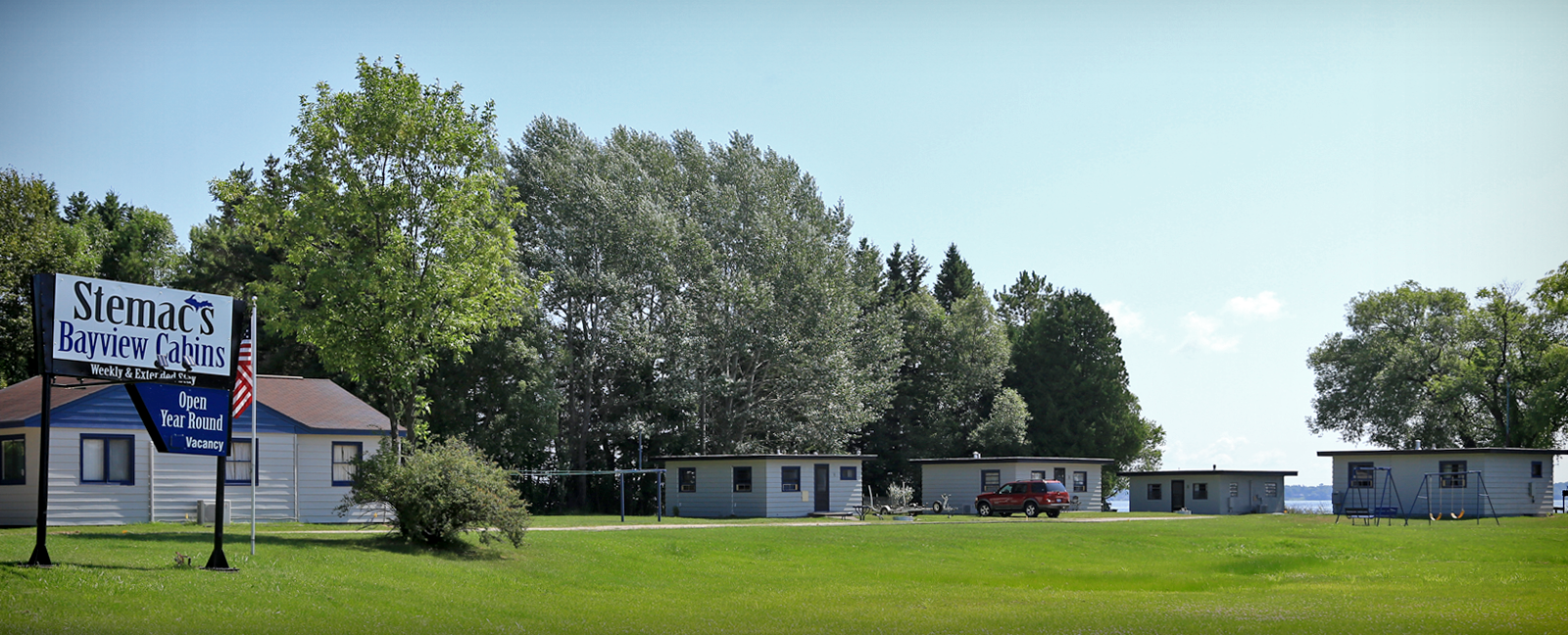 Welcome to Stemac's Bayview Cabins. Nestled on the shore of Little Bay de Noc in Gladstone, Michigan, Stemac's Cabin Rentals in Northern Michigan is open year round for your fishing, hunting, sporting, or family vacation.
Catering to everyone from fishing tournament participants and casual weekend fishing guests; water and winter sport enthusiasts; to hunters, family vacationers and anyone just looking to enjoy the quiet, pristine beauty of Lake Michigan's Upper Peninsula, Stemac's Bayview Cabins is your perfect destination.
We offer six fully furnished two-bedroom cabins, each with heating/air conditioning and a beautiful lake view. View our cabin amenities here.
Boaters can launch right next door at the public access dock, pulling their boat around on Stemac's protected private dock. A fish cleaning station and freezers are available on-site to preserve the day's catch. A fully stocked bait shop is located next to the public access dock.
History
Stemac's Bayview Cabins has been a Lake Michigan vacation tradition since 1952 when George Stemac opened his guest cottages for vacationers looking for a quiet spot to enjoy beautiful Little Bay de Noc and its premier fishing.
'Uncle George' kept the popular cabins operating for more than 50 years. In 2008, George's nephew Bob and his family took ownership, updating the cabins and dock while retaining the rustic mid-century charm.
Come Visit Us
Today, Stemac's is open year round so guests can enjoy Gladstone and Lake Michigan's 'Year Round Play Ground' activities–fishing, water sports, snowmobiling, hunting, ice fishing, skiing and snowboarding to name a few.
We are conveniently close to local amenities and events in Gladstone and surrounding areas of the Michigan's Upper Peninsula.
Many of our guests have been returning to Stemac's year after year for decades, enjoying the pristine beauty and unrivaled walleye fishing of Lake Michigan's Little Bay de Noc.
We invite you to come see why Stemac's Bayview Cabins has remained a special vacation destination for over 60 years.